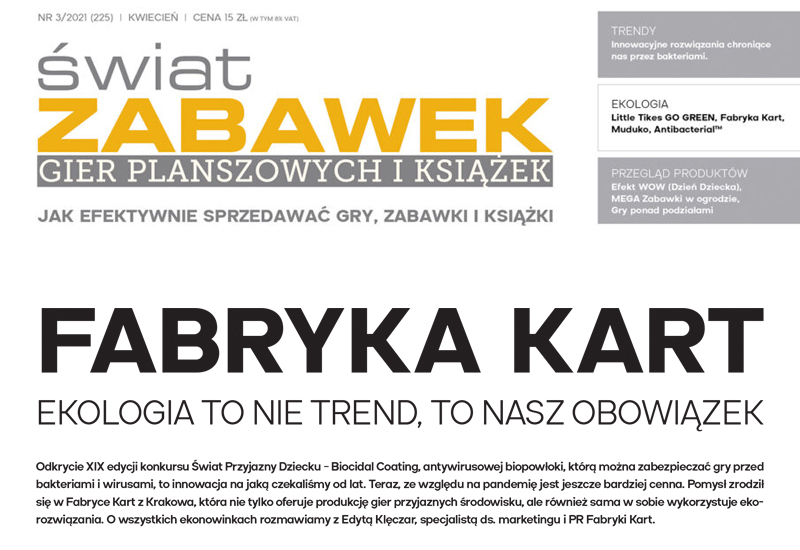 Ecology is more than just a trend - it is our shared duty
Biocidal Coating is the discovery of the 19th Świat Przyjazny Dziecku (Child-Friendly World) competition. The antiviral bio-coating that can protect games from bacteria and viruses is an innovation we have been waiting for for years. Now, due to the pandemic, it appears even more valuable.
The idea was born in Fabryka Kart in Kraków, which not only offers environmentally friendly game production but also uses eco-solutions. We are talking to Edyta Klęczar, a marketing and PR specialist in Fabryka Kart, about all the new eco-solutions.
Świat Zabawek (Toys World): Your factory is running smoothly despite many restrictions and lockdowns. What measures have you introduced to ensure that?
Edyta Klęczar: We have been aware of the seriousness of the situation since the beginning of the pandemic. Thus, we have tried to keep our finger on the pulse and react on an ongoing basis. Our work runs smoothly as we cooperate primarily with European companies, thanks to which we have constant access to raw materials, all that has allowed us to accept and fulfil orders in a usual manner.
We have stopped all business trips and meetings, obliged our employees to wear masks outside their workplaces, prohibited meetings in larger groups, systematically disinfected common areas, and measured our employees' temperature before entering the company every day. These are just a few of the measures we have decided to take to increase the of our workers and their loved ones' safety.
Last year, you launched a new ecofactory for playing cards and board games. What makes it so unique and ground-breaking for the games and playing cards industry?
Yes, that is right. In September last year, we launched the ecofactory, which was built according to environmentally friendly standards, incorporating solutions that converge with the guidelines of a closed-loop economy. The entire investment was carried out following BREEAM certification standards, i.e., the most widely used method in Europe to assess a building's environmental performance. We applied several ecological solutions, such as gas heat pumps, photovoltaic systems, and rainwater in sanitary installations. This is a breakthrough for the industry and the first factory in the world that can offer its customers environmentally friendly game production.
Production is one thing, but you have gone one step further. Listening to the eco-trend, which is becoming a requirement rather than a fashion, you have decided to use the "Ecofriendly Game" label. What is behind it?
Ecology is the most critical idea around which we are building the company. It is not only a response to the global trend you mentioned but, first and foremost, an opportunity for customers to support environmental protection activities. Everything indicates that we managed to introduce new ecological standards in game production, and our customers received them enthusiastically.
The Ecofriendly Game label certifies that only environmentally friendly materials, biodegradable or recyclable, have been used in the production. In these games, plastic elements have been replaced by wood, cardboard, paper, or fabric.
As environmentally-friendly games are part of our ecological strategy, we try to convince our customers that a cardboard pawn is still a pawn. Moreover, the games manufactured in the eco variant have the same quality as their non-ecological counterparts.
The omnipresence of viruses and bacteria poses a serious threat to health, especially to toddlers. Being aware of that, you decided on a very innovative project which resulted in the Biocidal Coating technology. Can you tell us how this project was launched?
It is no secret that we started working on microbiologically safe gaming technology as early as 2018, with scientists from the Faculty of Materials Engineering at the Warsaw University of Technology. It was then that, for the first time in the history of game production, printing joined forces with nanotechnology to develop a product that guarantees effectiveness and safety at the same time. Currently, nanochemistry is one of the most rapidly developing fields of science and is already beginning to revolutionize our everyday life. That is why we have used nanotechnology to create our breakthrough solution, namely a biocidal varnish based on the precise action of nanoparticles. The technology was developed after thorough research carried out with the safety of game users in mind. It should be noted that independent research institutes have also confirmed the effects of this cooperation, and at the end of 2020, a patent obtained by Fabryka Kart sealed the effectiveness and innovation of the solution.
So, what is Biocidal Coating?
Biocidal Coating is a nanocomposite varnish with biocidal properties for coating game surfaces. Our patented solution consists in using new generation bioactive nanocomposite particles of innovative chemical composition in the coating technology. The functional features of the new products include a radical change in the biological properties of printing products while significantly enhancing the safety of their utilization. What is important, the use of Biocidal Coating technology does not exclude the production of Ecofriendly Games.
What bacteria and viruses does Biocidal Coating affect?
Microbiological research and literature data clearly show that the varnish coatings containing nano additive in the form of Al2O3/SiO2/Ag/Cu nanoparticles have practically 100% antimicrobial activity against the tested pathogen strains. It means they will destroy and prevent the multiplication of all pathogenic cells placed on the surface of the varnish coatings.
Is the coating safe for children?
It certainly is. The nanoparticles are surrounded by a layer of silica, which increases their stability and makes them non-toxic and harmless to humans and the environment. Besides, in contrast to traditional disinfection methods (usually using products containing alcohol), the varnishing effect is permanent; it neither generates an unpleasant odour nor, above all, requires any human activity. The lack of necessity to disinfect lacquered products makes the games manufactured with Biocidal Coating technology perfect for kindergartens, day-care centres,
What surfaces can be protected with this coating, and is it durable?
The lacquer can be used to protect the raw materials for manufacturing cards, boards, game boards, boxes, and all other cardboard elements in our factory. As I mentioned earlier, silver and copper nanoparticles have been embedded in nanoceramics, which makes our coating durable, safe, and resistant to abrasion.
Does the application of the coating significantly extend the production period?
The use of Biocidal Coating does not extend the production period, as our ecofactory has been equipped with the most modern printing machine dedicated to this technology. With a capacity of up to 20,000 sheets/hour, this machine is also the fastest in its format class.
Has Biocidal Coating already won its first award?
Indeed, our technology has recently received an award in the Świat Przyjazny Dziecku competition. Komitet Ochrony Praw Dziecka (Committee for Protection of Children's Rights) decided to award us with the main prize in the Education category. It is a great honour and distinction for us, and we are happy that we can create Świat Przyjazny Dziecku together.
Interviewed by Dorota Mazurek