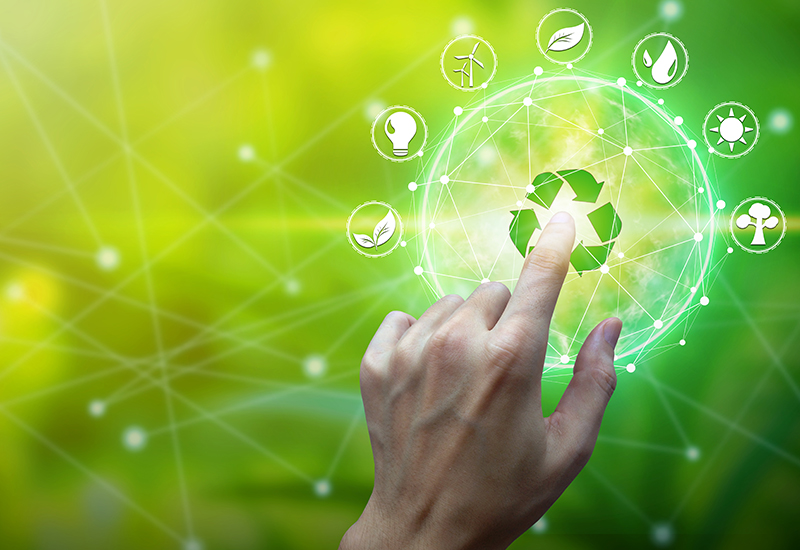 A green approach to business
The construction of the new ecofactory compliant with the BREEAM certificate is a continuation of the activities which Fabryka Kart has been undertaking for years in order to protect the environment. We are a company that assumes that taking even the smallest, seemingly insignificant steps can contribute to improving the quality of our environment. This is why we systematically introduce a number of new eco-solutions.
Ecogame offer
Currently, we have created a special offer of eco-games, thanks to which our customers can also support environmental protection activities. The ecooffer is a choice between traditional and ecological components, raw materials and solutions. For example, when selecting the elements of the game, you can decide not to choose those made of plastic and replace them with wooden or cardboard ones, such as counters or dice. A good example is also the replacement of the string bag, into which we pack the components, with a paper bag or textile bag, which will serve players much longer. The offer of ecogames is described in more detail in our New Factory, we invite you to check the information available there.
Tap aerators in the new factory
As far as the latest ecological solutions are concerned, we would also like to mention the aerators that have been installed in the new factory. Tap aerators are special end-pieces that have been put on bathroom and kitchen taps. The purpose of such devices is to aerate the flowing water, thus reducing water consumption without losing the comfort of using the tap.
Waste segregation
The standard operation of Fabryka Kart includes waste management and segregation. Our employees have been trained in proper waste segregation and our both buildings are equipped special bins to which we dispose: plastic, metal, glass, paper and bio waste. In addition, each employee's kitchen has containers for plastic caps and used batteries, which we then donate to collection for charity.
Zero Waste, i.e. proper use of space on printing sheets
During production, we try to use the free space on the sheets in an ecological and economical way. In accordance with the Zero Waste policy, we do our best to generate as little waste as possible, so if there is free space left on the blanking dies, we try to use them for various gadgets for our customers. We also advise customers on how many cards or boards will be the best solution to use the available space and generate the least amount of waste.
Electronic circulation of documents
Another milestone in the fight for our planet was the introduction of electronic document circulation in the company, which minimizes the need to print more copies. Thanks to this we have significantly reduced the amount of paper used. The setting up of automatic double-sided printing in company printers as well as the introduction of electronic requests sent to our HR Department have also contributed to this.
Ecoinnovation team
Fabryka has an ecoinnovation team that searches every day for ways to make the company operate in the most environmentally friendly way. This applies to both everyday company life and product innovation.
Bottle caps and batteries
Collecting bottle caps and batteries is one of the very popular forms of aid in Poland. Therefore, we have decided to place containers in the company, into which employees throw used batteries and plastic caps. Then the collected products are forwarded to kindergartens, schools or directly to the organizers of current actions. Thanks to this we contribute to the purchase of a wheelchair, financing treatment, or helping orphanages.
Used batteries are a source of valuable secondary raw materials. Proper collection allows for the disposal of toxic metals, while at the same time recovering some of the raw materials and saving energy needed to extract the elements necessary for the production of new batteries.
The bottle caps collected can be sold at recycling collection points. These in turn sell them to companies that reuse them. Plastic from bottle caps is ground into granules that can be reused in the production process.
Bicycles
In order to meet the environmental requirements, we have introduced a programme that encourages our employees to come to work by bike, scooter or rollerblades. Such means of transport are beneficial not only for our employees and their health, but also for the environment. The more people choose a bike, scooter or rollerblades in their daily travels, the less traffic jams will be, making travel easier for those who, for reasons beyond their control, cannot give up their car, and we will all enjoy cleaner air and less noise.
All the small steps we take as a company will over time bring about big changes that will have a positive impact on the environment. Our goal is to change reality for the better, even if the beginning brings us difficulties. We believe that together we can do much good for our planet.